Sable Radaelli with Italian style handguard nineteenth century. 9260 steel blade with high carbon content, very flexible and light with rounded tip. Stored in stainless steel.
Ratings and comments from our customers
Customers who bought this product also bought:
White T-shirt Medieval printed on both sides. Made of 100% cotton. p>
15 other products in the same category:
£65.24
£76.75
In Stock: 2 un.
Flamboyant Masonic ceremonial sword with stainless steel blade and handle engraved in black lace. Manufactured by José Luis Rubio swordsmither entirely in Toledo (Spain).
Gothic Dagger with leather sheath. The blade is of complete spike and screwed to the knob, but the dagger is not functional. The handle is covered with leather./ P>
Functional hand-forged spearhead to adjust to a handle of approximately 28mm. p>
King Felipe II Sword with gold leaf finishes and engraved stainless steel. Natural size: 103 cm <./ P>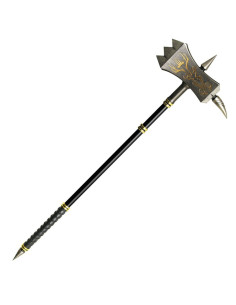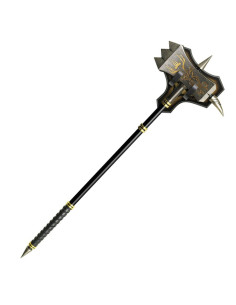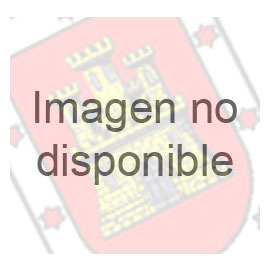 Hammer of war of King Robert I Baratheon of Game of Thrones with a certificate of authenticity. Official Product. Handle in steel coated in genuine leather and decorative rings plated in 24-carat gold. The head is...
£5.07
£5.97
In Stock: 1 un.
Mini club head with short handle. Measure 20 cm. Weight 58 gr.
functional sword tie Oliver Cromwell (1599-1658). The original is in the collection of the Royal Armouries in Leeds, England. Oliver Cromwell was an English military and political leader who made England a republic...
Ice Original Sword by Eddard Stark from the Game of Thrones® Collection. The authentic, the original. Made with 1060 high carbon steel blade and wooden handle with aged brass handle pieces. Includes screen-printed...
Launches european wild Boar with a high content of carbon 1055 and handle in ash wood american. Inspired by the ancient spears of hunting germanic. This spear belongs to the collection of ColdSteel Man at Arms...
Couple butterfly knives made of steel in Toledo (Spain). China has been the most popular weapon because they are effective, more convenient to carry a sword or katana and fighting techniques learned more easily.
English pistol of General Washington, eighteenth century
Decorative Katana with sheet steel and carbon 69 cms. It includes wooden stand.
Reproduction of the M1911 pistol, made of metal and plastic handles, with simulator mechanism for loading and firing, mobile locks, removable gun and removable magazine. The M1911 is a sturdy and reliable,...
Sword Tizona of the Cid with the gurada, the hawks and the knob with bronze details. The blade is made of stainless steel. The total size of the dagger is 55 cms.
Wakizashi sheathed in red wooden shield in silver and black braid. With 440 stainless steel blade.