Long Viking Sax sword with leaf decorated with the runic alphabet. The handle is lined in leather. Includes brown leather sheath with two hanging straps. Manufactured by Windlass Steelcrafts®
This sword is typical of the Germanic peoples in the period of migrations and of the early Middle Ages and the original is exhibited in the British Museum.
Ratings and comments from our customers
| Reference | Attributes | Quantity | Price |
| --- | --- | --- | --- |
| 096390001 | Blade edge: NO; | 0 | £148.88 |
| 096390002 | Blade edge: SI; | 0 | £166.83 |
Ratings and comments from our customers
good service good experience many thanks
Customers who bought this product also bought:
Gladius dagger pointed with stainless steel sheet. It includes sheath. Length: 42 cms.
Viking Sword Torshov of XIV-XX centuries from southern Norway. EN45 hand-forged hardened steel with a Rockwell hardness of HRC 48-50º. It includes custom leather case.
Viking trousers in brown wool with crossed laces on the hem. 74,03% wool 16.43% polyester li> 5.56% nylon 2.49 cotton li> 1.58% viscose
15 other products in the same category:
Viking sword with corrugated sheet, forged in high carbon steel shank riveted to the pommel. Guard and pommel are steel. Ideal for beginners who want to practice without hitting the blade.
Godofredo Viking sword with steel blade folded Damascus. Very well balanced. Faithful reproduction of the ninth century. The grip is leather interlaced and guard and pommel are of Damascus steel. The sheath is made of...
Viking sword Sweden functional with blade made of high fluted carbon steel, fantastic knob and Viking classic guard. The handle is made of wood covered with leather. Includes sheath covered in leather. Manufactured by...
Windlass Steelcrafts gunsmiths have forged this steel sword with high carbon content. Take a sheet with extra wide channel. The guard is luxuriously decorated with a work of Viking knots in relief. Both the knob and...
Norman sword from a functional hand X century made in Germany by Ulfberth®. corrugated sheet steel hand-forged and well tempered with a hardness of 48-50 HRC. The full tang is riveted to the pommel. The handle is...
Functional Viking sword for practice. Carbon steel sheet EN45 spring and blunt. Leather-wrapped grip and pommel riveted by hand. It includes wooden sheath covered in leather.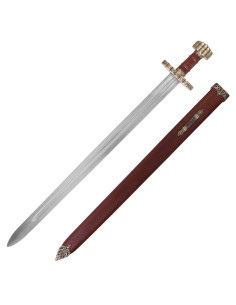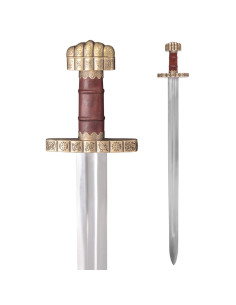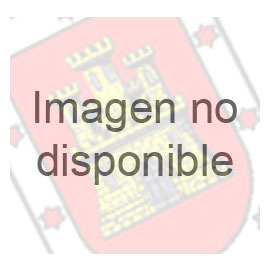 Sword viking Hedeby, S. XI. The blade of this replica is forged in steel EN45 tempered. The edges are not sharp and the spike is riveted to the pommel. The handle of a wooden core is lined in red leather and presented...
Sword viking, Leif Erikson, with a blade forged of steel with high contentido of carbon with a broad channel in the sheet. The pommel and the guard have been carved with dragons and marine knots intricate turning this...
Viking sword Ulfberht functional. Blade made of perfectly balanced high carbon steel. Leather handle covered in leather. Guarda made of steel as well as the knob in steel and in the shape of a Brazil nut. Includes...
Dybeck Viking sword with steel blade forged one-piece carbon riveted to the pommel. The guard and pommel are decorated and finished with brass. Based on the original that was found in southern Sweden and can be seen...
Sword viking designed with a grip very elaborate brass. The blade is wide, forged carbon-steel.
Odin sword decorated with engraved stainless steel blade, blue corded handle and pommel and saved with engraving.
Sword of Viking King functional with its sheath to game. Each steel part is handmade and incredibly detailed, especially the sheath of leather-embossed and bathed lavishly in silver. The style sheet viking, light and...
Hurum Functional Viking Sword with high EN 45 carbon steel blade with rounded tip and edges. The guard and the knob are made of steel and the handle is covered in leather cord. Includes leather sheath covered with...
functional X century Viking sword hand-crafted by the ULFBERTH® brand. Blade made in EN45 carbon tempered steel with a hardness of 48-50 HRC. full tang with riveting knob and handle lined in leather. It includes...