Gladius Sword Roman Centurion
Sword roman Gladius functional with a blade of high carbon steel forged and tempered by hand. A marvel of the sword truly worthy of a roman officer. All the pieces are aged and have a thorough hand finished in solid wood with metal detailing complete this piece real.
Includes wooden sheath with custom belt 'type strap' leather and with metal details.
Ratings and comments from our customers
Reference
Attributes
Quantity
Price
095010001
Blade edge: NO;
2

£198.17

£220.19

-£22.02

095010002
Blade edge: SI;
0

£214.76

£238.62

-£23.86
Customers who bought this product also bought:
Roman dagger from the time of Julius Caesar, I century BC
£25.29
£28.10
Stock: 1 un.
Viking spearhead. This Viking lance is forged by hand in a strong, high carbon steel. Handle not included. span>
Hanging bracket Color antique silver sword. It includes complete kit (two brackets with plugs and screws). This support is for any sword with a maximum sheet width of 4.2 cms.
5 other products in the same category:
Sword Medieval Tewkesbury, with a classic design of a long sword of the FIFTEENTH century. It has a double-edged blade forged of steel EN45 hardened and tempered. The sword is functional and full spike bolted to the...
£142.83
£158.70
Stock: 1 un.
Sword Fighting Knight-Errant with full spike and blade in carbon steel 1065 of great quality. Decorated with pieces of solid brass. Knob wooden lined in leather for a firm grip strong and a sheet of steel of high...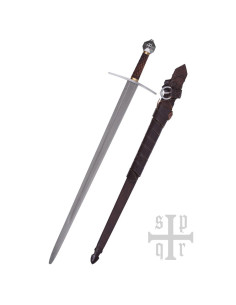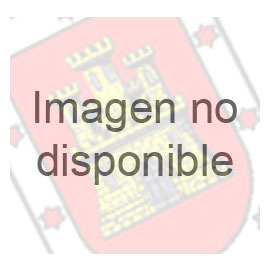 Medieval sword of a hand model Oakeshott Xlla, XIII. It has a design that is based on a sword assigned to Konrad von Thüringen (Conrad of Thuringia, Grand Master of the Teutonic Knights from 1239 to 1240 AD. Our model...
Viking sword model Suontaka. The original sword was found in the tomb of a woman in Finland. The tomb dates back to 1100 BC. The Windlass replica of the Viking sword Suontaka comes with the very detailed pommel,...
Irish sword Gaelic a hand for light fighting. High carbon steel blade with blunt and thick edges and rounded tip. The knob is riveted to the spike. Wooden handle wrapped in leather. Includes wooden sheath covered in...