Richard the Lionheart sword, though being not very long (101 cms), has outstanding finishes, engravings and details such as leather plaits around its hilt. The traditional image of Richard the Lionheart, the second Plantagenet king of England, has been preserved through the centuries in a romantic version, as a glorious crusader knight errant, captured by the Emperor of Austria on his return from the Holy Land, rescued by the young troubadour Blondel who discovered them when singing a popular ballad.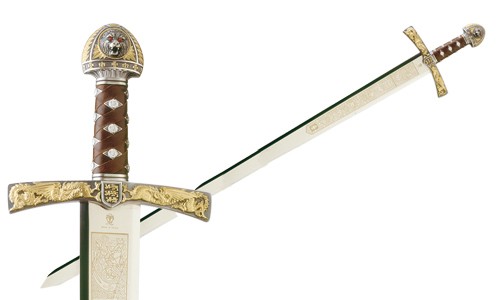 Richard was appointed as Lionheart at the beginning of the Third Crusade, when being compared to Philip of France as a lamb and King Richard as a lion. He convinced his army of belonging to the legend of King Arthur, and of possessing the magic sword 
Excalibur i
n Winchester around The Round Table.
Richard was a generous Knight and a shrewd politician but, above all, a great soldier. His own skill at the battle field was an inspiration for his men.
SEE RICHARD THE LIONHEART SWORD